Chiropractor David Klungness D.C.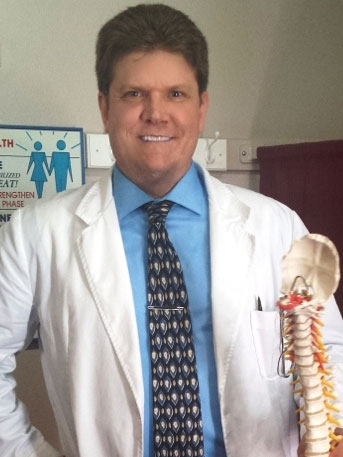 Dr. Klungness studied pre-med Biology at the University of Wisconsin.  Dr. Klungness received his Doctor of Chiropractic degree from Life University in Georgia in 2005, after completing 4 years of professional instruction, including one year internship at the Life University Clinics.
After graduating from Life University Dr. Klungness moved to the Pacific Northwest and initially practiced in the Tacoma and Seattle area, before relocating to the Yakima Valley in 2014.
Dr. Klungness utilizes a variety of techniques depending on the patient.  Including but not limited to; manual adjusting; instrument adjusting, soft tissue work, Thompson drop table, and a traction table to work the thoracic and lumbar regions.
Dr. Klungness is proficiency rated in Activator and Gonstead techniques is certified by the National Board of Chiropractic Examiners, and a member of Washington State Chiropractor Association.
Dr. Klungness believes Chiropractic can help those who are in pain as well as patients who want to live at their highest potential. He is continually researching new techniques and therapies in order to ensure his patients receive the highest level of care available.
---
Kimberly Simonsen, Chiropractic Assistant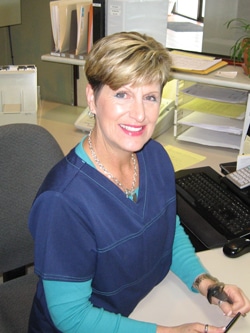 Kimberly has been working in the chiropractic field for over 10 years.  She handles all the front desk management of the West Valley clinic and is the go to person for any scheduling or billing questions.  As a regular chiropractic patient herself, Kimberly enjoys watching patients achieve wellness through chiropractic care!
---
Monica Sun Rice, Massage Therapist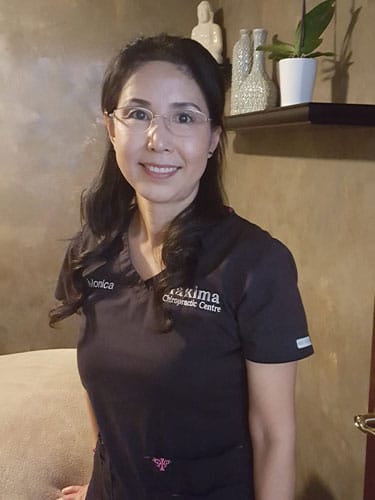 With over six years of training in China in as a Medical Clinician, Acupuncturist and Massage Therapist, Monica's background is like none other in Yakima County. With her vast knowledge of the human body, she is able to find specific points of tension and pain in her patients, and create personalized treatment.
Her techniques include; Chinese Aijiu Therapy, Tui-na, acupressure massage, cupping, Guasha, lymph draining massage, Swedish massage, integrated massage technique, cranial sacral therapy, geriatric massage, and pre-natal massage.
Monica's superior skills combined with her professionalism and caring for her patients make her massages both therapeutic and a rejuvenating.
Come find out why her patients say she is the best therapist they have ever tried!
---
Rogelio Herrera, Massage Therapist
Treating patients since 2004, Roger has over 10 years of experience with massage.
With a unique background assisting in exercise rehab, Roger has extensive knowledge of both dealing with injuries (such a sports injury or auto accident) and daily aliments (i.e. conditions related to daily work at a computer).
By using a combination of techniques including trigger point, deep tissue massage, instrument massaging and hydroculator, patients receive individualized and effective treatments.
Bilingual in both English and Spanish, Roger is able to efficiently treat a diverse group of patients. He brings a personalized and professional experience to every massage.
---
Sarah Warninger, Weight Loss Coach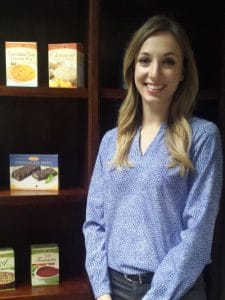 West Valley Chiropractic offers a high protein weight loss program. Sarah has been in charge of this program for 3 years, and is energized by her client's milestones; both big and small. From celebrating a successful week, and feeling pride for sticking with the program during a tough week.
After moderate weight loss; many people experience lower blood sugar levels, and lower blood pressure. After health-checkups with their primary care doctor, many patients are able to reduce or stop taking some medications. In addition, my clients have reported sleeping better and less knee and leg pain. Since this diet helps regulate insulin levels, most people on the diet experience more energy without the "energy crashes" they were experiencing before.
Call our office to schedule a free consultation and sample packet from Sarah, and to find out if this plan is the right one for you!
Monday
8am - 12pm
2pm - 6:30pm

Tuesday
2pm - 6:30pm
Wednesday
8am - 12pm
2pm - 6:30pm
Thursday
2pm - 6:30pm
Friday
8am - 12pm
2pm - 6:30pm
Saturday
Closed
Sunday
Closed
7200 West Nob Hill Boulevard #9
Yakima, WA 98908
At the Meadowbrook Mall